Please also see these other travel tips pages: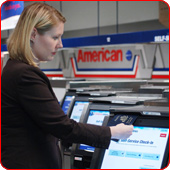 Once the day of your trip is here, keeping a few tips in mind will help make everything go as smoothly as possible.

Arrive Early
We have assembled detailed suggested arrival time information, but in general...
If you need to check a bag, arrive at least 90 minutes before domestic flights
If you're not checking bags, arrive at least 60 minutes before a domestic flight departs
For international travel, arrive at least two hours early
Add some padding to the standard recommended arrival times, to make sure your trip starts out as planned. You may also want to refer to our Airport Information and Ticket Counter Hours page to plan your arrival accordingly.

To better ensure an on-time departure, our goal is to close the jetbridge door 10 minutes prior to departure time. This allows all customers to board and stow their belongings.

Checking In
Still waiting in lines at the ticket counter? If you haven't used Flight Check-In on AA.com, you can still use our other check-in options for added convenience.
Self-Service Check-In allows you to check in for domestic AND international flights.
Curbside Check-In offers you the convenience of checking bags and getting a boarding pass for domestic flights right at the curb.
Security Checkpoints
To make clearing security as easy as possible...
Review the guidelines for liquids and gels on our Carry-On Baggage page before your flight.
Have your government-issued photo identification and boarding pass ready for inspection.
Wear shoes that are easy to slip on and off, since all footwear must be x-rayed.
Remember to place all coats and jackets in a bin for x-ray screening.
Make your laptop easily accessible for inspection.
Avoid wearing anything metal or place these items in your carry-on baggage for screening.
Boarding Process
Your comfort and convenience is a top priority at American Airlines therefore we have made some changes to improve the boarding process. Learn more about changes to our boarding process.

Admirals Club Day Pass

Purchase an Admirals Club® One-Day Pass (online or at Self-Service Check-In machines) and relax in comfort and elegance. Enjoy the many amenities offered by the Admirals Club with your one-day pass – which can be used at multiple lounges throughout your day of travel.

Plus, if you decide to become an Admirals Club member within 30 days of your visit using the One-Day pass, the charge paid, up to $100, will be applied toward your annual membership.
Return to main Travel Tips page