Business Class
---
How will your time fly?
Settle into your Business Class seat and survey a personalised space that offers ample room, welcome privacy and the means to work, play or rest.
With American Airlines spacious Business Class environment on transatlantic flights, your flight - and your time - is what you make of it. We'll give you the tools you need to work efficiently and privately; to relax, rest and sleep in comfort; and to be entertained. Watch a film, take on a challenging video game or catch up on world news. We'll provide you the space, features and amenities that help you customise your personal space. From the moment you enter the cabin, you'll realise we've made significant changes with you in mind. During your time in the air, you'll be free to do what you really want - or need - to get done. In American Airlines Business Class, how time flies is up to you.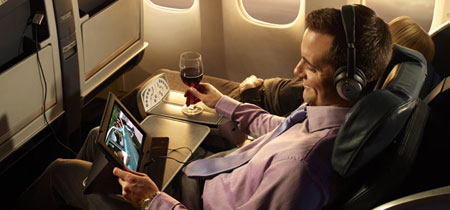 A Class of its own
Slimline profile for even more legroom and controls for lumbar support, footrest and six way leather headrest so you can mould the seat the way you want.
Additional legroom; 6'4" lie flat seat
25.4cm screen Samsung Galaxy Tablet for personal viewing experience*
Non- stop entertainment of films, TV, CD's, games and audio channels.
Laptop power port and satellite phone for office environment.
Soft comfort duvet, plush pillows and slippers for all seats. (Learn More)
Elegant amenity kit containing carefully selected products for your health and comfort. (Learn More)
Bose® QuietComfort® 15 Acoustic Noise Cancelling® headphones (Learn More about this AA exclusive )
Please note that cash is no longer accepted for payment of inflight purchases such as duty free.
* Available on Boeing 767 flights to or from Europe.