New York. New York
Are you ready to explore New York? We have a world of destination opportunities for you with up to 2 daily direct flights from Paris to New York and many more connection opportunities. New York City is home to some of the world's most recognisable landmarks and attractions. From Times Square and Central Park to the Empire State Building and The Metropolitan Museum of Art, the island of Manhattan packs more legendary icons into one compact area than any other place in the USA. With so much to see and do, a trip to New York is only a flight away. Take a look at the attractions that should be on any visitor's must-do list:
New York skyline: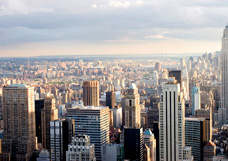 New York City's skyline is truly awe-inspiring. The iconic skyscrapers, bridges, waterways, islands and monuments create a breathtaking panorama that is instantly recognisable worldwide. While you can feel the immensity of these surroundings from anywhere in the City, the grandeur of the cityscape is best viewed from above. Take an elevator ride up 1,050 feet to the 86th-floor observation deck of the Empire State Building. This soaring art deco masterpiece offers a completely unobstructed, 360-degree view of the city below. For a spectacular vista that includes the Empire State Building itself, head up to the Top of the Rock, located on the 67th, 69th and 70th floors of 30 Rockefeller Plaza (home of NBC studios). Both the Empire State Building and Top of the Rock are open late, so don't miss the chance to see the City lights shimmer after dark.
Times Square: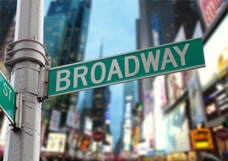 Not sure where to look while walking through world-famous Times Square? Don't worry—you're not alone. The bright lights of massive digital billboards make midnight look like mid-afternoon; people peddle art and jewellery on the street; and star-studded Broadway and Off-Broadway shows abound (with reduced-price tickets to see them at the TKTS Discount Booth). Visitors can shop in flagship stores such as Toys "R" Us (which boasts an indoor Ferris wheel), take pictures with wax celebrities at Madame Tussauds, or grab a pre- or post-theatre meal along Restaurant Row (West 46th Street, between Eighth and Ninth Avenues), where many eateries offer set menu deals. And with Broadway closed to cars from West 42nd to West 47th Streets, Times Square is now more visitor friendly than ever before.
Central Park: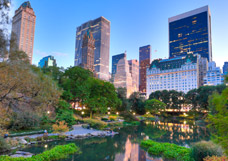 Spanning 843 acres in the heart of Manhattan, Central Park is one of the world's greatest urban oases, encompassing a diverse landscape of rolling fields, walking trails and tranquil ponds—all sculpted by human hands. Among its attractions are the Central Park Zoo, Belvedere Castle and the Friedsam Memorial Carousel. Sheep Meadow and the Great Lawn offer sprawling expanses where visitors can relax and enjoy the outdoors. In the winter, there's ice-skating at Wollman Rink, which provides a picturesque backdrop for that classic cold-weather pastime. In the summer, the Delacorte Theater hosts Shakespeare in the Park, outdoor performances of the Bard's work.
Statue of Liberty and Ellis Island: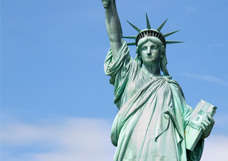 The Statue of Liberty is perhaps New York City's most recognisable historic landmark. Though you can see Lady Liberty from land, the short ferry ride to Liberty Island will bring you up close and personal. Or, if you'd prefer a more leisurely approach, board a Manhattan Island Tour, travelling down the Hudson taking in all the sights and sounds of the city, including breathtaking views of the Lady herself.
Shopping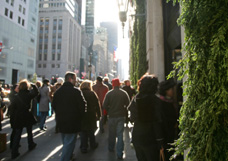 With its countless stores, boutiques, pop-up shops, vintage havens and designer showrooms, New York City lives up to its reputation as a shopping capital. The best bet is to start big, with the iconic department stores, where you can spend hours looking at the huge selection of items on offer in one location. Barneys New York and Bloomingdales in the heart of The Upper East Side are a shopper's paradise. You can look and love high-priced designer wares, pick up more affordable gifts for loved ones (or yourself) and enjoy beautifully crafted and, at times, over-the-top window displays.
A world of opportunity
Our route to New York takes you a little closer to the U.S. and beyond by opening up a window of destination opportunities. Learn more about where we can fly you to.
When you fly with American Airlines you will benefit from a leading network across the United States. We are upgrading our fleet with hundreds of new planes and refreshing our existing aircraft to bring you a more modern, comfortable and connected experience. Learn more.