Together offering you more across the Atlantic
Best of both sides of the pond
American Airlines®, British Airways, Finnair and Iberia continue to bring you even more choice in transatlantic travel.
Coming together to offer you more
We provide access to more than 29 gateways in the United States, Canada, Puerto Rico and Mexico from over 130 cities throughout Europe. We can take you from Europe to North America and back again up to 104 times a day, every day of the week. And on the US side of the pond you can choose from over 200 destinations. Our schedules and fares work better together, and you can also enjoy smoother connections. Better still, you can benefit from AAdvantage® miles across all of our transatlantic flights.
Spotlight on New York
Our shuttle service between Paris and New York offers an impressive 5 direct daily flights plus up to 17 opportunities to connect. There is a mix of direct flights and connected services via London and Madrid. There's even a choice of two airports in both cities, with Charles de Gaulle, Orly, JFK and Newark.
If you're travelling in First or Business Class between London and New York, you can experience the unparalleled comfort of fully lie-flat seats on every American or British Airways flight, ensuring a state-of-the-art travel experience on our modernised fleets. We will offer nearly three times more fully lie-flat seats between London and New York than any other airline partnership.
So whether you're flying to New York on business or planning a trip to soak up the sights and enjoy the world famous shopping, there's never been a better time to take a bite out of the Big Apple.
AAdvantage members extra benefits
If you are one of our AAdvantage members, you can earn and redeem miles on eligible flights* on all three airlines. You can use your miles for a cabin upgrade, or to upgrade your tier status**.
Miles for upgrade
We're also expanding your ability to use your miles to upgrade. Tickets booked directly through American Airlines or travel agencies are now eligible for upgrade on flights with our partners British Airways and Iberia. Learn More. AAdvantage Executive Platinum, AAdvantage Platinum and AAdvantage Gold members can also earn elite status miles on eligible flights.* AAdvantage Executive Platinum and AAdvantage Platinum members enjoy reciprocal lounge access.
*Flights to/from Cuba are not eligible for mileage accrual or redemption.
** Subject to upgrade availability; terms and conditions apply.
Support throughout your journey
You can also rely on oneworld Global Support when the unexpected happens. We'll work together to ensure your connections go as smoothly as possible by:
Meeting you on arrival to fast-track you through customs, immigration and security
Taking special care that your baggage is transferred
Giving you up-to-date travel information, new boarding passes, and overnight accommodations if you miss your flight.

oneworld® Global Support is available in London Heathrow, Chicago, Dallas/Fort Worth, , Los Angeles, Madrid Barajas, Miami, Tokyo Narita, New York JFK, Sydney and Hong Kong.
The premium experience
First and Business Class travellers have access to an extended range options including premium cabins on flights to over 400 destinations in more than 100 countries. Enjoy reciprocal lounge access, preferential boarding and many other comforts and conveniences:
American Airlines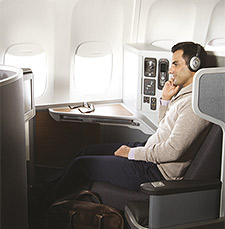 First Class Flagship® Suite swivel seat that transforms into a fully flat bed*
Business Class 6' 4" lie-flat seat with lumbar support and six way leather headrest*
Fine dining and award-winning wine selections in-flight
Complimentary in-flight amenities include an amenity kit, quilted bed topper, cosy duvet, slippers, and pyjamas
On demand entertainment with Samsung Galaxy Tab™* 10.1 and Bose® QuietComfort® Acoustic Noise Cancelling® headphones
Personalised service, comfort and connectivity at Admirals Club® lounges
*Avaialable on selected aircraft
British Airways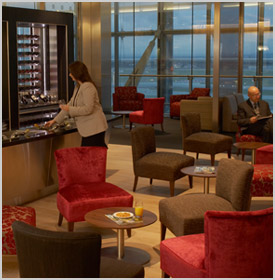 New First features a personal suite that includes a redesigned seat that reclines to a fully-flat bed and a personal wardrobe area
Club World (Business Class) offers an ergonomically designed seat that converts to a comfortable, fully-flat bed
In-flight dining options offer a range of exquisite dishes and expertly sourced wines
Over 150 entertainment options available on our Audio and Video On Demand systems
Relax with a glass of fine wine and a light meal in our comfortable lounges
Iberia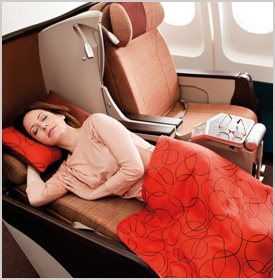 Business Plus features generous personal space and an adjustable fully-flat bed with massage function
Chef-designed Spanish cuisine, accompanied by a broad selection of award-winning fine wines
Touch screen entertainment system with access to top movies and TV and a personal satellite phone with SMS and email facilities
Dedicated check-in, priority baggage handling, fast track, and preferential boarding
VIP lounges offer a complimentary selection of Spanish wines, a business centre, children's reading areas, and private showers
Finnair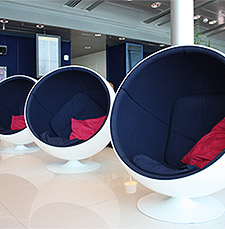 Priority check-in, fast lane through security along with priority boarding and priority baggage
New-generation lie-flat seats includes pillows, blankets, amenity kits and more equipment is available on request
Personal entertainment system offers your favourite films
On-board menu offers the best treats of the Nordic region, award-winning wines and a quality selection of beverages
Free access to dedicated airport lounges.