Savour The Finer Things Inflight
<
Satisfy your palate with our chef-inspired menu options that range from succulent entrees to light and refreshing selections.
Look forward to an elevated premium experience when you fly with us from Europe to the USA & South America. When travelling in First or Business Class, you'll enjoy more personalised service and an expanded selection of menu options served on modern china with new flatware – just one more way we're upgrading your experience.
When travelling in First Class, you can unwind with a mimosa upon boarding, and then pair your meal with a sampling of our award-winning wines; specially selected by our wine consultant, Ken Chase. And for an extra touch, you'll also be hand-delivered amuse bouche prior to enjoying your selections from the menu.
Your Dining Experience in the First or Business Class Cabins
Starter
After a drink of your choice and a blend of warm mixed nuts, enjoy a starter option that may include seared scallops or a bacon wrapped breast of chicken accompanied by modern, bold flavours and ingredients.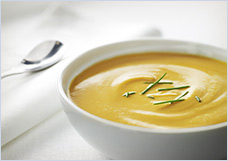 Soup or Salad
Next, enjoy a delicious salad or warm up with a savoury bowl of soup. Can't decide? You have the option to enjoy both!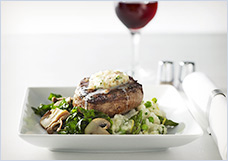 Entrée
Choose from a selection of entrées such as a tender beef fillet accompanied by fresh seasonal vegetables. We also offer a new pasta option that allows you to select from several fresh ingredients to customise your pasta just the way you like it.
And to top off your meal, pair your dining selection with one of our award-winning wines selected by Ken Chase.
Dessert
To end your dining experience, enjoy a made-to-order ice cream sundae with fruit compote, chocolate fudge, caramel, nuts, and whipped cream. Or instead, select Grand Marnier-soaked fresh fruit or a fruit and cheese plate along with a fine cordial to relax with.
Want to Eat but Need to Sleep?
In order to allow you to sleep as long as possible, you may choose our Dine Upon Request® service which allows your meal to be presented all at once, at the time you desire.
Your Dining Experience in the Main Cabin
When travelling around the world in our Main Cabin, you can experience menus that offer delicious appetisers, salads, entrees and desserts for your dining enjoyment.
The length and destination of your flight will determine the type of food and beverage you will be offered, however, our menu changes often to bring you a variety of snacks and meals.