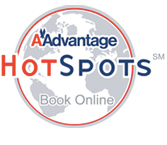 POPULAR VACATION
DESTINATIONS WITH THE
MOST MILESAAVER® AWARDS
Ready to redeem your AAdvantage® miles for a vacation? Whether it's the sun, slopes or cityscapes that beckon you, AAdvantage HotSpotsSM is your passport to award travel. The destinations below have the best opportunities for finding a MileSAAver award for your trip, so you can use fewer miles.