Etihad Airways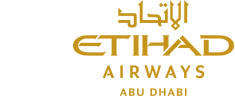 Earn and redeem miles with Etihad Airways
Regions
Earn and redeem AAdvantage® miles for travel on Etihad Airways within the Middle East and between the Middle East and:
Africa
Asia
Canada
Europe
South America
South Pacific
U.S.
Earn miles
To earn AAdvantage® miles when you fly on Etihad Airways marketed and operated flights:
Buy an eligible published fare ticket in an eligible booking code
Fly an eligible route
Specific flights, routes or cities that are excluded from earning miles or award travel are listed as exceptions if applicable.
Details for earning miles
For travel on or after December 16, 2020
This content can be expanded
Cabin
Purchased fares booked in
Base miles
Cabin bonus
First
P
100%
300%
First
F, A
100%
175%
Business
J
100%
100%
Business
C, D
100%
75%
Business
W, Z
100%
30%

Not available

Economy
R
100%
10%

Not available

Economy
Y, B
100%
–

Not available

Economy
H, K, M, Q
75%
–

Not available

Economy
L, V, U, E, G
50%
–
Economy
T
25%
–
If a purchased fare booking code is not listed in the tables, no award miles are earned.
Travel embargo dates
There are currently no travel embargo dates on Etihad Airways.
Redeem miles
Use AAdvantage® miles to book award travel on Etihad Airways with oneworld® and partner airline awards which allow you to travel to and from your desired destination using any combination of our airline participants.
Flight award chart for oneworld® and partner airlines
Missing mileage credit
Please allow up to 30 days for AAdvantage® mileage to automatically post to your account.
To request missing mileage credit for flights flown on Etihad Airways, complete the mileage request form.